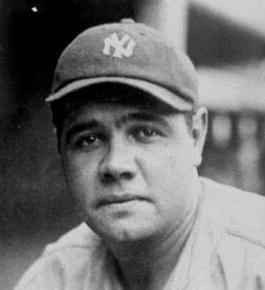 How many times have you said or heard that a baseball player (or anybody for that matter) was born ahead of his time?  If you're like most of us, the answer is simple – more than we can count.
Laugh if you will, but think about it.  The Babe was a full-time pitcher through the 1917 season, when he had a 24-13 record and 2.01 earned run average, following the 23-12, 1.75 record he posted the year before.  In those two years, he hit the grand total of five home runs in what was still known as the dead ball era.  After three years, at the age of 22, he had 65 wins.
Now, if you can, fast forward a century and ask this question:  Would anyone in baseball even remotely consider making a position player out of someone with those pitching credentials? 
A year later, when the lively ball apparently made an unannounced debut, Ruth pitched in only 20 games (19 starts), and went 13-7, with a 2.32 ERA.  Oh, by the way, he also played 75 games in the outfield and hit 11 home runs, which was good enough to lead the league, the first of 12 times (in the next 14 years) he would do so.
It's too bad the American League didn't have the same idea in 1918 that it had after the 1972 season, when they introduced the world to the designated hitter.  We've been debating the pros and cons of the DH for decades, but suppose somebody had made the suggestion a century earlier?  Just imagine if you can.  The Babe finished with 714 home runs – and a 94-46 win-loss record and 2.28 ERA.  By the way he once logged 29 1/3 straight scoreless innings in World Series play, a record that lasted longer than his single season home run mark.  He played another 17 years after converting from a full-time pitcher to position player (he made two cameo appearances, one in 1930, the other three years later – and logged complete game victories both times).
Was Babe ahead of his time?  Is it conceivable that we might have found the Sultan of Swat's name in the pitching department of the record book – alongside Cy Young, the winningest (and losingest) pitch in history?
Or was he behind his time, too soon on the scene to establish himself as the game's premier all-around performer as a combination pitcher-outfield-DH?  It really doesn't matter because no matter how the numbers are stacked, is there really any question about who was the greatest player?
Didn't think so.