The Houston Astros pitching staff has been solid this season, with starting pitcher Brad Peacock as the most consistent starter.  His 11-2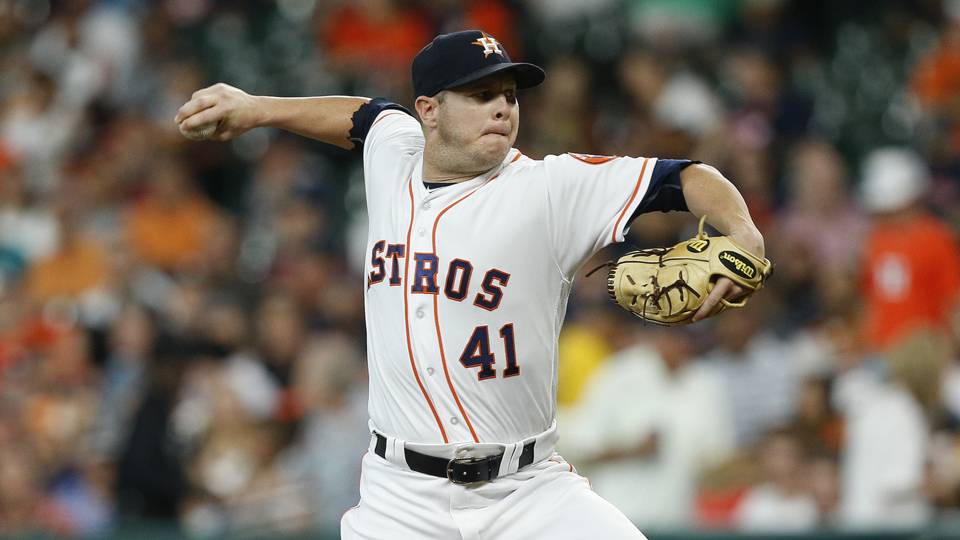 record stands out, and his 2.98 ERA is the best out of the teams' starting pitchers.  2017 is the year he excelled, and the team would have struggled more if it weren't for Peacock's play.
Brad Peacock was drafted in the 41st round by the Washington Nationals in 2006 and made his debut with the team in 2011.  He then joined the Astros and has been on the squad since 2013.  When the Astros reported to spring training in February full of World Series aspirations, Peacock was a 40-man roster afterthought. The 29-year-old righthander had his chances, and in those chances, he hadn't performed.
It's rare for a 29-year-old to completely reinvent himself as an athlete, but that's exactly what Brad Peacock did.  The Okeeheelee, Florida Babe Ruth League graduate put forth his best season and made his first postseason start when the Astros took the AL Division Series.
He has been a workhorse for a team that needed consistency from their rotation.  His 153 strikeouts are second only to Charlie Morton for the team lead.
So, how did Peacock transform himself from the Class AAA starter last year?  For starters, he was finally healthy after years of back issues. The roots of his success go deeper, though.
In July of 2016, around the time of the Class AAA All-Star break, Peacock found himself at a career crossroads. Pacific Coast League hitters were having their way with him, so much so that his ERA neared 5.00. If he didn't make changes, he figured, he would be looking for work elsewhere.  So Peacock dropped his arm slot from a high three-quarters to a low three-quarters and with help from fellow Class AAA pitcher Jordan Jankowski, he started throwing his slider with less velocity and more sweeping movement. The result is the improved command he's harnessed this season and the nasty breaking ball against which the opposition batted a woeful .188 in the regular season.
Peacock's seemingly out-of-nowhere emergence coincided with physically his healthiest season since 2011, the same year he debuted as a September call-up for the Washington Nationals. For years, he would wake up the morning of a start not knowing whether his back would hurt that day. An explanation proved elusive.
"This guy had been battling his back for a long, long time. I don't think many people realize. It was pretty bad," said Astros pitching coach Brent Strom, who since his first spring training with the team in 2014 has been a big advocate of Peacock.  "I've always liked this young man, his stuff, his fastball, the way it plays. This is a guy who used to throw 95, 96 (mph) when he first came up with the Nationals. His back being bad just curtailed his development."
In October 2014, Peacock underwent arthroscopic surgery on his hip in an attempt to alleviate the back pain. It didn't work. He made one major league start that season, in April, before he was shut down. When the Astros made the postseason that October, he watched his teammates play on TV.
Earlier that summer, though, Peacock had found relief in the form of a diagnosis from a specialist in California who discovered bone spurs pinching a nerve near his spine. A doctor in Chicago performed surgery on his upper back in August 2015, which afforded Peacock enough rehabilitation time to come into 2016 spring training ready to pitch.  Last offseason was a much-welcomed winter free of rehab.
"I've been through a lot in the last couple years, but it's brought me here," the quiet and unassuming Peacock said. "I'm just excited to be able to pitch in the postseason, and it's going to be pretty cool."
According to the Houston Chronicle, Peacock taught himself to pitch, then refined his talent with his mother, a former softball player.  Just like the '90s classic "Rookie of the Year," Peacock's mom was the person practicing with him in the backyard.
Jacyne Peacock, however, went farther than the fictional Mary Rowengartner from Rookie of the Year.  She coached Peacock's Cal Ripken team and even led it to a league title.
Yes, Jacyne Peacock was her son's Cal Ripken League manager and helped spur Brad's career because of an off-the-cuff rude comment from a judgmental father. 
"One of the male chauvinist guys said, "Why don't you coach a team?"  Brad's father, Jerry, told everyone that Jacyne would coach a team and will kick their butt.
That's precisely what Jacyne and Brad Peacock did, teaming up to earn a title in the Okeeheelee Cal Ripken League.
Jacyne always told her son that he was born with gift and all he had to do was work hard and he was going to make it. 
Family comes before anything else.  That's especially true in the tight-knit Peacock household, where playing baseball and traveling thousands of miles to watch baseball have been a way of life.
Jerry Peacock retired 10 years ago at the age of 54 after 31 years as a police officer in Greenacres Police Department in Lake Worth, Florida, to be able to watch his son's career unfold.  He's traveled everywhere from Sacramento, California, to Harrisburg, Pennsylvania, to Syracuse, New York, to watch his son live out his dream, calling it a dream of his own.
Jerry's preferred method of travel and sleep for much of his son's career had been an enclosed utility trailer that he would park anywhere he could find a spot, including a Wal-Mart parking lot, a Minor League field or even a friendly stranger's yard.  Now he and his wife log miles in a Class C motor home.
Brad Peacock credits fatherhood (his wife gave birth to a healthy baby boy this past June) as another reason for his turnaround season.  "Just having Colton and knowing I have to take care of him now," he said.  "So I think that's a big thing, just trying to concentrate out there and I think about him out there.  I have to do good for him."
And among his greatest joys these days is seeing Colton smile.  So a final question for Peacock is what's better, seeing the grin on his little face or striking out the side?  "Seeing the baby smile for sure," he says before pausing for a second.  "Maybe striking out the side in the World Series.  I don't know."
Win or lose – participating in the 2017 World Series is a dream come true for Brad Peacock.