JACE CHAMBERLIN, a graduate of the Visalia, California Babe Ruth League, caught our eye when he participated in the 2011 and 2012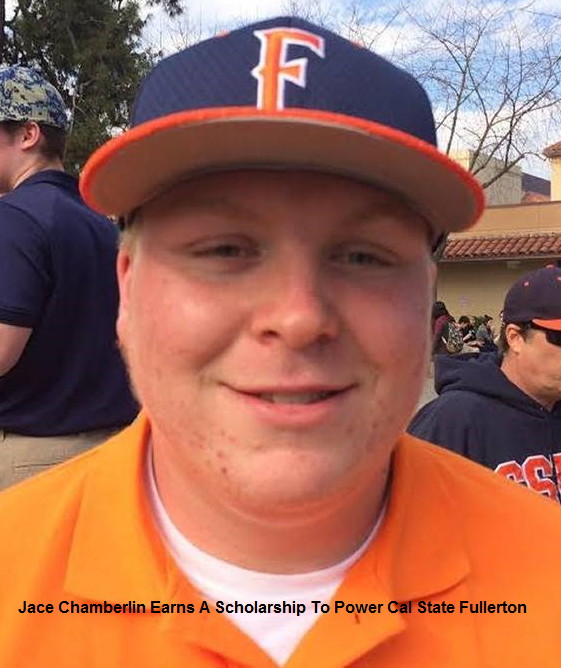 Cal Ripken World Series.  He set a record for batting averages with a .800, for most strike-outs with 18, threw a no-hitter (coming close to throwing a perfect game), captured the Most Outstanding Player and Batting Title Awards, and participated on a team that won back-to-back World Series.
Jace arrived at Redwood High as heralded a youth baseball player ever to come out of Visalia, which has produced first-round draft picks (such as Aaron Hill and Beau Mills), All-Stars (Mike LaCoss and Stephen Vogt) and a World Series champion (Bobby Ojedga).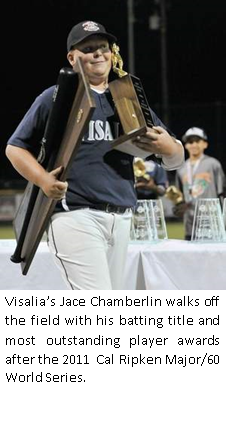 And in his first varsity at-bat as a 14-year-old freshman, Chamberlin showed what all the hype was about, crushing an opposite-field double off the left-center-field fence on an 0-1 pitch from Clovis North's Duke-bound right-hander Jack Labosky, The Bee's Outstanding Pitcher of the season in 2014, during the Coca-Cola Classic.
"When he came up, there was a feeling in the air," Redwood coach Dan Hydash said. "I remember even the kids on the team were pumped to see him hit because he was so special. They were like, 'Wow, he's the real deal.'"
The 6-foot-3, 270-pound left-handed hitting senior first baseman hasn't stopped crushing since, earning a scholarship to national power Cal State Fullerton.
Chamberlin celebrated his choice in front of family and friends, and alongside college-bound Redwood teammates Parker Cantrell (Fresno Pacific), Chris Gonzalez (Antelope Valley) and Vincent Pratti (Antelope Valley) during a campus ceremony on National Signing Day.
"I'm really excited. It's a good opportunity," said Chamberlin, who also drew college recruiting interest in football from Arizona of the Pacific-12 Conference after a standout sophomore season as an offensive lineman before giving up the sport to focus on baseball. "I went there on a visit and fell in love with the school. The academics fit me perfectly, and the program was great. It all fit me well. I'm ready to hop in there and be a Titan."
Hydash said Fullerton, traditionally a factory of pro prospects, had targeted Chamberlin for two years before he signed with the Titans in November.
At the time of his signing, Fullerton's coaching staff commented that Chamberlin "is a very physical hitter that shows tons of power potential and could be a middle-of-the-order hitter for years to come."
That power potential has caught the attention of professional scouts, too.
Chamberlin likely will be selected in the major-league draft in June, according to Hydash.
And that will present a challenging decision for the 17-year-old who has been groomed for a baseball career by his father, Mark, since his youth.
"I'm just sitting back and hoping for the best," Chamberlin said. "If college works out, college is awesome. If the draft happens to come into play, I'll have a long talk with my family and see what's going on."
As a youth, Chamberlin got an up-close look at Visalia professionals such as Hill, Mills, Vogt and Shane Costa as they trained at his father's Chamberlin Baseball Academy.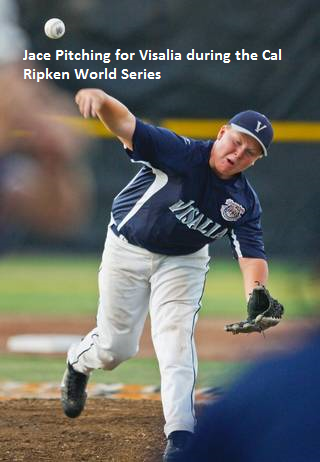 "He was brought up around all those guys," Mark Chamberlin said. "Jace was practically born there. He was under tables listening to hitting lessons all his life."
Chamberlin is coming off a Bee Fab 50 and first-team All-West Yosemite League junior season when he hit .408 with 14 doubles, five home runs, 33 RBIs, 24 runs and a .504 on-base percentage for a Rangers team that went 23-8 and beat Tehachapi 14-4 in the D-II final.
As a sophomore, Chamberlin hit .381 with 12 doubles, five homers and 36 RBIs to lead Redwood to a 28-7 record and a 4-0 win over Hanford for the D-II title. Chamberlin as a freshman hit .356 with eight doubles, two homers and 17 RBIs as the Rangers went 19-13 and reached the D-II semifinals.
"Every once in a while in your lineup, you get lucky if you have a difference maker," Hydash said. "He's a special hitter. He's one of those guys with great discipline. He always has a plan up there.
He's going to be very successful down the road. He just has to keep that good work ethic up."
Jace has made the Babe Ruth League program proud.  He plays the game with integrity, and with an intensity to compete and lead by example, both on and off the field.