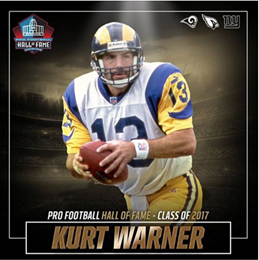 Kurt Warner, a graduate of the Cedar Rapids Metro, Iowa Babe Ruth League, just added a new ending to his storybook football career.  The retired quarterback was one of five modern-day candidates voted into the Pro Football Hall of Fame.
Kurt is a former American football quarterback, a part-time TV football analyst, and a philanthropist. He played for three National Football League (NFL) teams: the St. Louis Rams, the New York Giants, and the Arizona Cardinals. Off the field, he and his wife, Brenda, who have seven children, have devoted their lives to serving others.  Thousands continue to benefit from their outreach initiatives. 
Kurt Warner's football career has proven to be of the more improbable rags-to-riches stories ever to come out of the sports world. Bypassed by the big Division I colleges, and at one point working the graveyard shift stocking shelves at a supermarket so he could stay in football shape during the day, Warner, a 28-year-old no-name back-up, catapulted to stardom in 1999. During his second full year in the NFL, he drove a high-powered St. Louis Rams offense to a Super Bowl victory, and collected MVP honors along the way.  Over the ensuing decade, Warner captained two other teams to the Super Bowl, registered another MVP season, and threw for more than 200 career touchdowns.
His journey from working the aisles of a grocery store to winning two NFL MVP awards serves as a reminder to never stop pursuing your dreams.  Kurt Warner is a great role model for today's youth.  They see more than athletic brilliance.  They see an athlete who played the game with gratitude, hustle and enthusiasm.