When death touches our Babe Ruth team, grief follows no playbook.  There is no game plan to help us prepare for the loss of two valuable teammates – Bill Smith and Jim Thomas.
The only thing we can rely on is the influence of the many accomplishments of these two special gentlemen, whose dedication to the Babe Ruth League program has left a lasting impact that will live on in the many individuals who were fortunate to cross their paths.
---
BILL SMITH of Chickasha, Oklahoma left this world on June 22, 2017 at age 92.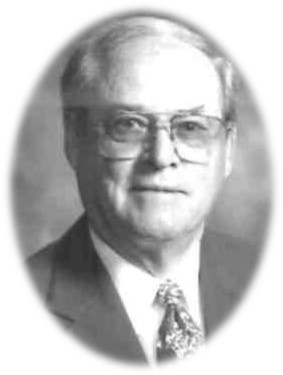 Smith's affiliation as a volunteer with the Babe Ruth program began in 1955, when he became the founder of his local league and served in all dimensions for five years.  He then went on to serve as Oklahoma State Commissioner from 1960 to 1966.  From 1966 to 1973, Smith held the position of Southwest Regional Director.  In 1973, he was elected an At-Large Member of the Babe Ruth League Board of Directors, a position he held until being elected Chairman of the Board in 1983.  In addition, he served as a Babe Ruth League World Series Director for many years.  Bill retired from Babe Ruth League in 2007.
Bill received his degree in Education from Oklahoma University, his Bachelor's Degree from Midwestern University in Texas, and his Master's Degree from Kansas State.  At Midwestern, he also lettered in football, basketball and baseball.  From 1943 to 1945, Smith served with the U.S. Marines, where he earned two Purple Hearts.
Smith retired as Vice President from the University of Arts and Sciences of Oklahoma, having served on the USAO administration for more than 37 years.  Bill helped bring the baseball and softball programs back after an 18-year hiatus, donating a collection of his baseball memorabilia to be auctioned for funds.  Named after Smith, the Bill Smith Ballpark was constructed in 1966.  Smith is the namesake of an annual award, the Bill & Pat Smith Scholar-Athlete Award, that is given to one male and one female athlete each year who has excelled both academically and athletically. 
Bill was elected to the Babe Ruth League International Hall of Fame in 2008.
---
JIM THOMAS, 80, of Centralia, Washington, spent his last Fourth of July surrounded by friends and family and died peacefully at home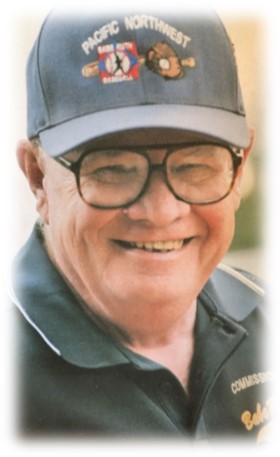 July 5, 2017, following a sudden diagnosis and short battle with cancer.
Jim met the love of his life, Nancy Louise Cherry, and the two married August 13, 1960.  Their family grew to include one daughter, four sons, and ten grandchildren.
Jim was named a Babe Ruth District Commissioner in 2000, and served in that role until 2009, when he became assistant State Commissioner.
Jim was inducted into the Southwest Washington Babe Ruth Hall of Fame in 2007, and a field at Borst Park was named after him.  He subsequently was inducted into the Pacific Northwest Babe Ruth Hall of Fame in 2016 as he continued in this service to the community.
In 2013, Jim led the effort to host five Babe Ruth regional tournaments simultaneously at Borst Park, which helped raise thousands of dollars for the local baseball community and garnered national attention from the Babe Ruth community.
Jim's family owned and operated the Minnehaha Grocery, a gas and feed business.  Active in the Kiwanis Club; Grand Mound Rochester Chamber of Commerce, Public Works District and Volunteer Fire Department, Jim and Nancy opened a Farmers Insurance Agency in Grand Mound, which later incorporated a Washington State Licensing Agency and State Liquor Agency and Grand Mound Video.
Jim was also an active member of the Marine Corp League of Lewis County, Joseph P. Bier detachment 1192; St. Mary's Catholic Church; Fraternal Order of Elks; and the City of Centralia political community.