This past year, we've challenged you to contribute just $5 to the Alumni Association.  Many of you responded and many of you donated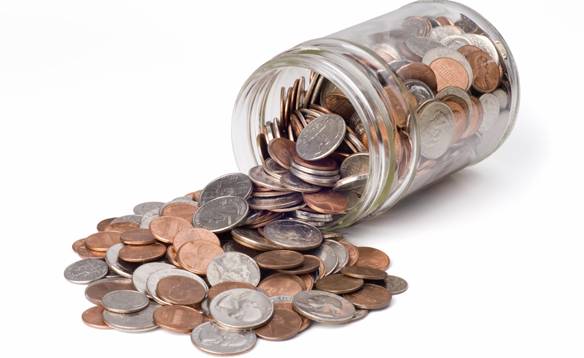 well beyond the $5 for which we are very grateful. 
The next couple of months, we're taking it back to the basics with an old-school challenge that everyone can easily join, a spare change challenge.
Have you ever thought about how much loose change you have lying around the house, everywhere from coat pockets to junk drawers to the bottom of your purse?
Maybe $5 worth? $10? $100 or more?
The idea is simple. Search around the house for a jar or bowl to fill with your spare change for the next couple of months. Get the spouse and kids involved as well.  When family or friends come by, ask them to throw their loose change in the jar/bowl.  Take the challenge to your local league – have a little fun by pairing up – males vs. females or kids vs. adults. 
Then on June 1, cash it in and then have a "Feel Good Moment" by donating the funds to the Babe Ruth League Alumni Association.  It's worth it. After all, you're only using spare change – money that people often do not miss.  (Please send all checks to the Babe Ruth League Alumni Association, 1670 Whitehorse-Mercerville Road, Hamilton, NJ 08619).  
Are you in? If so, let us know, and tell us how you plan to round up and save!  We look forward to sharing your stories and photos on the Alumni website and in the DIAMOND LEGACY Newsletter.
To share or if you have any questions, please contact Theresa Cleary at 609-278-2308 or via email at theresa@baberuthleague.org.
Remember, Contributions are never used to pay salaries.  The Babe Ruth Alumni Association is strictly a volunteer-driven, non-profit 501(c) (3) Organization.  All charitable donations go to where the need is greatest - for example, to support players, teams and leagues that otherwise would be unable to participate because of lack of funding or due to catastrophic loss; to support special initiatives, programs and projects that advance the general wellbeing of youth; and to donor-designated causes, such as scholarships and endowments, to honor or remember an individual, to support a specific individual, team or league, etc.