By Kevin Taylor – Times Record
Alan Swaim can't be found in the movies "Moneyball" or "Trouble With The Curve." The iconic baseball movies feature older, well-established baseball scouts who see things average fans can't.
But Swaim fits that mold - and more.
"The thing that really sets him apart was that he could see things with guys that really didn't have to do with baseball," recalls longtime Alma Babe Ruth Baseball coach Kevin Edwards. Edwards played for Swaim in the early 1980s.
"If a kid was really struggling, he didn't just look at the mechanics, he would look at what was going on at home," Edwards said. "He would really get in touch with the kid and find out what was going on, and back then, people didn't do that. Back then, coaches were hard and straight forward, and that's what sets 'Big Al' apart from others."
Two weeks shy of his 66th birthday, Swaim of Fort Smith will be inducted into the Babe Ruth International Hall of Fame in February of 2017.
Previously, Swaim was inducted into the Southwest Babe Ruth Hall of Fame in 2014.
"It's an awesome honor," Swaim said. "I understand they've had several letters written on my behalf. It almost leaves me speechless."
"I've had a great relationship with Babe Ruth Baseball for 55 years."
Though there are many Fort Smith people with deep baseball ties (Clarence Higgins, Squeaky Smith and David Plunkett come to mind), Swaim may have ties to the most generations.
Coaches retire but never stop coaching. That's Alan Swaim.
"I've helped out a few times with my grandson Carson's (Curd) travel team," Swaim said. "I still love doing that; I still like teaching."
Officially, Swaim retired from coaching baseball in 1995. But in the 2000s, he was instrumental in the great success the four Babe Ruth World Series' hosted at the Field of Dreams complex in Van Buren.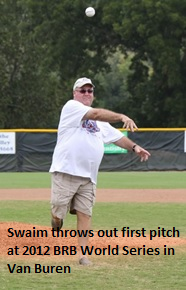 The first World Series, held in 2004, was so popular with Babe Ruth officials that Swaim was asked to put on a seminar.
"I went to Fort Lauderdale, Florida, to speak about the success at the Babe Ruth League International Board of Directors Meeting," he said. "Babe Ruth asked me if we would set up a training center for future Babe Ruth World Series events."
Van Buren hosted three more events, the 12-year-old Babe Ruth World Series in 2007; the 13-15  Babe Ruth World Series in 2008; and another 13-15 Babe Ruth World Series in 2012.
Swaim never missed a beat.
For 17 years (1995-2012), Swaim served as administrator of the Field of Dreams Athletic Complex in Van Buren.
His roots
A 1969 graduate of Northside, Swaim picked up on coaching techniques from kids in his Fort Smith neighborhood or from those who coached him.
"I had some really good volunteer coaches," he said. "My dad didn't care anything about baseball, so I learned the game from the neighborhood kids, and then the coaches taught me so much about the game. I love the competition.
"In fact, I still love the competition."
Because his parents, Mary and Don, divorced when he was a teenager, Swaim didn't play after he was 15. He went to work. But that didn't make him give up on baseball.
"Norm DeBriyn would put on these baseball clinics, and I couldn't get enough," Swaim said. "I craved knowledge, and I loved to pass that knowledge on to other kids. It's the one game that size doesn't matter. Jose Altuve (Houston Astros) is a great example about that. It's a team sport, but it also has a lot of individual skills, too."
Swaim took his skills and passed them to the hundreds of players he coached.
"I love teaching the game of baseball," Swaim said. "It's just been a huge part of my life; I love working with kids.
"I have so much fun now working with my grandkids."
Big influence
Billy Graham once said a coach will impact more people in one year than the average person will in an entire lifetime. Swaim is an example of that.
Thirty-three of Swaim's players went on to scholarships. Some are coaching high school baseball; others are in public school administration.
Another, Gus Malzahn, coached Auburn to the 2010 National Championship - an undefeated season that ended with a win over Oregon in the BCS title game.
"He (Malzahn) was like having a coach on the field," Swaim said. "He was so smart. He reminded me of me; he craved the knowledge.
"He wanted to learn everything he could about the game."
Malzahn was a prep standout at Fort Smith Christian in the mid-1980s. Others, like Matt Coleman (Ozark), Brian Fry (Northside) and Kevin Edwards (Alma), had successful high school baseball coaching careers.
"He's had a ton of positive influence on a countless number of people, said Coleman, an assistant principal at Ozark Middle School.
"The players that he touched are now passing down the positive lessons they learned from him to their kids," Coleman said. "Al's influence will continue to spread for generations."
"I loved watching kids develop," Swaim said. "Most kids are sponges; they want to soak in a lot. Some of the kids I coached are now coaches now. To see the success they have and the way they teach the game makes me so proud."
Like Swaim, Edwards grew up in Fort Smith and graduated from Northside (1984). After his playing career ended, Edwards later coached American Legion with Swaim for Coca-Cola.
"Outside of my family, he's one of the biggest influences on me personally," Edwards said. "He's one of the reasons I got into coaching to begin with. He taught us and pushed us beyond the game.
"He wanted us to be good human beings and be outstanding teammates."
Different era
Today's players are generally stronger than the kids Swaim grew up with.
 "I don't think kids are necessarily faster," Swaim said. "The game has changed a lot; it's gone to more of a power game than it was in the '60s."
Sadly, Swaim said, there are very few sandlot players in these days.
"I don't think kids have the baseball savvy they had in the '60s," Swaim said. "The only time they play baseball practice or a game. Back in the '60s, we went out and played for entertainment. We played baseball sometimes six or seven hours in the day.
"I can't remember the last time I drove by a vacant lot and saw kids playing baseball."