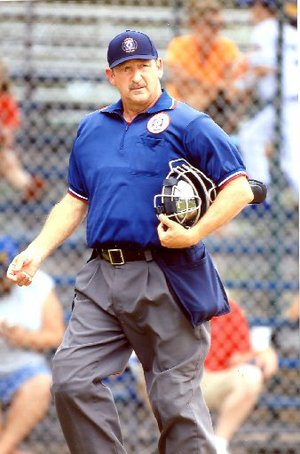 Most people wouldn't want a job that involves standing in the heat for hours and being yelled at on occasion by parents in different languages.
Ken Pennington of Springdale enjoys it so much he did it again for a third time.
Pennington was part of an eight-man umpiring crew that was selected for the Cal Ripken Major/70 World Series in Aberdeen, Maryland.
Pennington, 61, has long been involved in youth sports as an umpire and baseball commissioner. He was a repeat selection by league officials for the league finals after years of developing a reputation for competency and fairness.
"I felt real honored and privileged to be a part of this," said Pennington, who also worked the Cal Ripken World Series in 2008 and 2014. "It's a once-in-a-lifetime experience for the kids and, as an umpire, you get to bond and meet new people from all over the country. Plus, it keeps me in shape."
Pennington works for Hill-Rom, Inc., where he assembles and repairs hospital beds. But his at the Cal Ripken World Series was in the outdoors on a field that is a mini version of Camden Yards in Baltimore. The tournament included 18 teams divided into United States and International Divisions.
Pennington grew up near Ray Winder Field in Little Rock and got his start as an official by umpiring softball games. He added baseball and football and now works mostly high school and junior high games involving Class 5A teams and below in Northwest Arkansas.
Pennington has seen the good, bad and ugly during 38 years as a referee and umpire in youth sports. The vast majority of his experiences have been good, but he's had to eject a few coaches from games during his long career.
"You hate when it comes to that," said Pennington, who has umpired more than 3,800 games. "We all know sometimes that a game can get real exciting and you really have to say something or do something bad to get ejected. That's my last resort. I want to keep all the coaches and kids in the game."
He takes a similar approach with unruly fans.
"Umpires should never recognize the fans, not even turn around," Pennington said. "If you do, then they're in your head and that's not a good thing. We all have to remember this is not about me and it's not about you. It's about the kids, and there's a 99 percent chance he or she is not going to be a professional athlete. So, get that out of your head and let the kids enjoy the game and have fun."
Pennington also supports a pitch count for young pitchers and athletes who play multiple sports. Those are hot topics after an increasing amount of arm injuries at all levels in baseball.
"I like the pitch count," said Pennington, whose son, Kyle, was named recently as an Assistant Boys Basketball Coach at Springdale Har-Ber. "We don't have one in our league, but it's coming. A problem we have is that a kid may play league ball during the week and travel ball on the weekend. If I were a parent nowadays, I would get a devise that counts the number of pitches and sit in the stands with it.
"When he reaches his limit, I would tell the coach my son needs to come out."
Good advice from a man who has made youth sports and its purpose his passion for 38 years.